The American Staffordshire Terrier was officially recognised in Australia on 1st January 1987.
The first Amstaff was imported from Hawaii in November 1985 by Mr and Mrs Murdoch of Red Cliffs Victoria. They were to become the first breeders/exhibitors of the breed, their kennel prefix being "Amstaff". The basis of their future breeding programme was to start with this import, "Rockislands O'Omua O Hawaii". Bob and Ruths next import was the lovely brindle dog Ka Hanahou's Lei O' Makana. He was to become the first Australian Champion, and with the earlier imported bitch was to produce the
first Australian bred litter.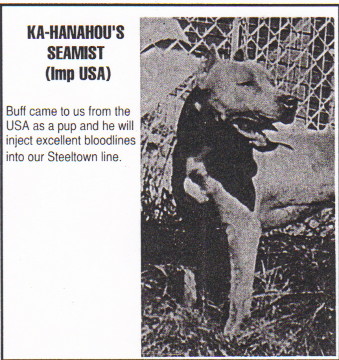 In 1989, in Queensland, Dr Glucina of the "Araganu" prefix began to import Amstaffs into Australia. Over a period of time he imported the American Champion dog "Steeltowns Diamond Boy", another dog "Ka Hanahou's Seamist", a bitch "Cock N Bulls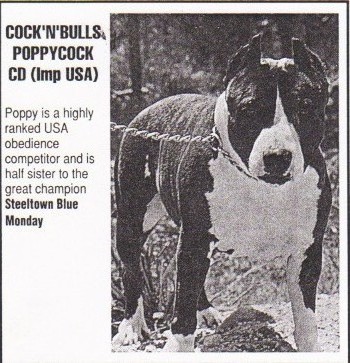 Poppycock" and another bitch Haw N Blue Knight Mist. All having cropped ears, so unfortunately were unable to be shown in Australia. From these imports Dr Glucina was to start his breeding program and produced his first litter in 1990.
The Murdoch's next import was another male "Ka Hanahou's Rojo's Sam", a red dog. He was 8 ½ months old when released from quarantine on February 14th 1991.
In October 1990 Mark and Wendy Evans, of Evastaff Kennels in Tasmania, were to purchase a brindle bitch from Hawaii. This was "Kalokos Lea", just 13 months old at time of purchase. She arrived in quarantine December 1990 and was released 12th April 1991. This bitch started her show career in August the same year and went through to her Australian title. Kalokos Lea was the first bitch to produce a litter with both parents being Australian Champions.
Evastaff imported their second Amstaff in December 1992, released from quarantine May 1993. This was the striking black brindle dog "Hot Lava Indian at Evastaff". Jasper, as he is known, was to quickly gain his Australian title also.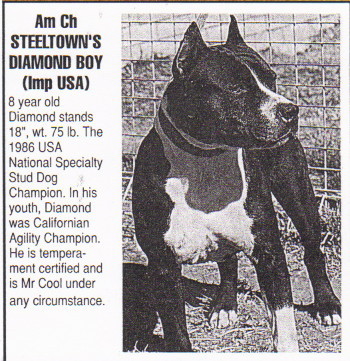 In the following years imported semen produced some worthy Amstaff litters. Lee Jenkins, of Bluesteel Kennel in Victoria, imported semen from two dogs. International Ch Willynwood Redneck and American Ch Rowdytowns Hardrock Café. In Queensland Greg Gordon imported frozen semen from Am Ch Pacific's Distant Thunder. And later, in partnership with Lynda Craw (Lyntiki), the lovely blue dog "Am Ch Pacific's Hot Pursuit", who was co-owned by Greg and Lynda.
Lynda Craw also imported two Amstaffs from New Zealand in 1998, (originally imported from Hawaii into NZ). The dog, "Aust/NZ Ch Kupa'a Tama of Triskara" and the bitch "Triskara Mea Kau Ake (AI USA)". The bitch arrived in whelp. Other breeders are investigating importing worthy dogs and bitches as well as further importation of frozen semen from good American bred dogs.
More dogs and frozen Semen have been imported into Australia since then making their mark on the Australian Amstaff.
Interest in the Amstaff within Australia is steadily on the increase. This versatile breed can be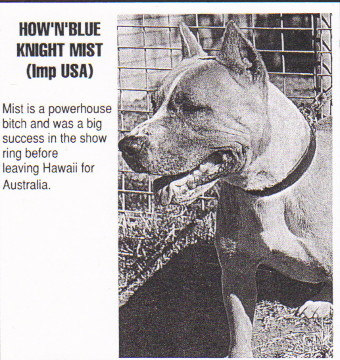 utilised as a family companion, a show dog and as an obedience dog and are now seen in all fields of canine performance and therapy. The breed is continually creating interest in and out of the show ring, and this, combined with a responsible breeding program will ensure a steady development of the America Staffordshire Terrier in Australia.
Written and compiled by Wendy Evens - Evastaff Kennels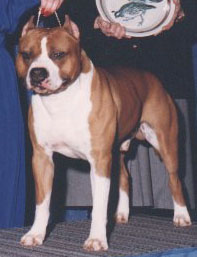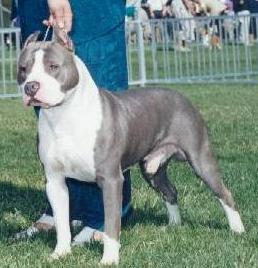 Am Ch. Pacific's Distant Thunder               Am Ch. Pacific's Hot Pursuit (Imp USA)